As Baltimore property management experts, we know that one of the most important investments property owners make is in their rental property. We also know that when you invest in rental properties, it's essential to get things right the first time. That means taking care of any maintenance requests quickly and managing tenants effectively with sound strategies.
In this blog post, our property managers share ten tips for improving ROI on your real estate investments by making upgrades that attract and keep long-term tenants!
1. Make More Space
A Baltimore property management company would agree that adding square footage to your rental unit is one of the best ways to increase ROI on an investment property. Today's renters are looking for more space to work from home and spend more time with friends and family.
While adding a room or repurposing under-used space does require putting some money into a rental, owners can increase the rent to offset costs and generate more revenue.
2. Swap Old Appliances for Energy-Efficiency
Swapping out old or outdated appliances for energy-efficient models, property owners and tenants both benefit from lower monthly utility bills and an improved living situation. In addition to making your investment more appealing to renters looking for sustainable homes, Baltimore property managers note that this is also a great way to attract quality residents because of its environmental benefits!
3. Upgrade the Lighting
Adding new fixtures and upgrading the lighting in a rental property can have an immediate impact on renters' experience. Whether you decide to upgrade with energy-efficient LED models or simply replace old, old-fashioned light bulbs, Baltimore, MD property management companies agree that good quality lighting can reduce utility costs and add a security feature to outdoor spaces.
4. Help Renters Save Water
Property management experts will tell you that it's worth investing in water-saving fixtures. In addition to adding value to your rental unit, a Baltimore, MD property manager notes this is an environmentally friendly way for landlords and tenants alike can save money on monthly utility bills!
5. A New Coat of Paint
A new coat of paint can add a lot to the overall appeal and home value of your real estate investment. Baltimore rental property management companies agree that repainting rental units is one way landlords can easily (and cost-effectively) increase ROI, especially when done as part of an upgrade project!
In addition to freshening up spaces for renters, property managers also note this makes it easier to fill vacancies because potential tenants will be able to picture their furniture and decor in their prospective homes before signing on the dotted line.

6. Flooring Upgrades
Upgrading the flooring in a rental property can make an immediate impact on your rental unit's appeal, as well as its value. Choose durable flooring that works well with classic or modern trends that will stay relevant for many years. Avoid high-priced floors that require specific solutions or techniques to care for you or won't hold up well to traffic from tenants, kids, or pets.
7. A Better First Impression From the Curb
Updating the curb appeal of your rental property delivers a better first impression to potential tenants and their friends and family after they move into the home. Simple updates include painting the front door, installing low-maintenance landscaping, and replacing a worn-out mailbox.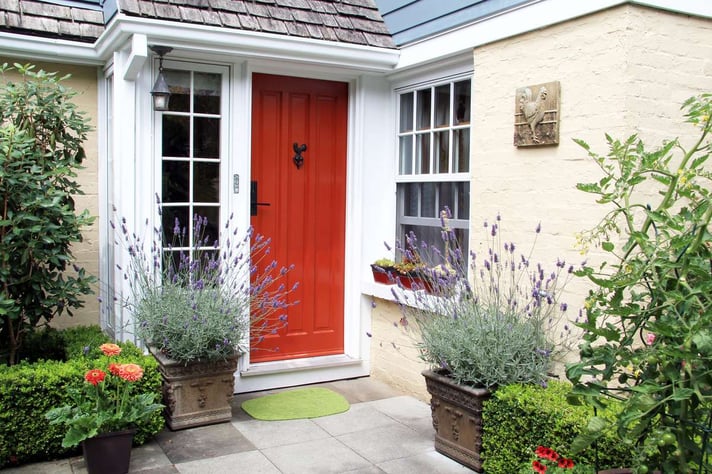 8. Home Technology
A property management firm recommends investing in smart, energy-efficient home technology to increase ROI. Automated lighting and climate control systems can help renters save money on utility costs while providing a more comfortable living space.
In addition to making your investment feel like the modern homes that today's renters want to live in, Baltimore property experts agree these technologies will also add value when it comes time to sell or refinance because they make the rental experience far more convenient for tenants!
9. Replace Countertops
Replacing outdated kitchen and bathroom countertops is another smart way to update a rental property without spending too much money. As with choosing new flooring, new countertops don't need to be high-end quartz or granite. Choose durable materials that deliver a classic look that can fit with any renter's decor.
10. Refresh Bathrooms
Whether you choose to replace the sink, toilet, tub, shower, or a combination thereof, property management experts agree these upgrades are an easy way for landlords to increase ROI because they deliver immediate results that will impress potential tenants! Plus, a quality bathroom refresh improves the value of your real estate investment.
A Baltimore Property Management Company Helps Investors Choose the Right Upgrades
Not sure where to start? Any of these ten upgrades could make your rental property more attractive to quality tenants and improve retention. If you're looking for assistance in choosing which upgrades will work best for your particular situation, don't hesitate to reach out. Rentwell is here to guide investors to better returns with the best property management services in Baltimore, MD, and the surrounding areas. Reach out to learn more about how we can help!
Learn more about improving ROI! Download our free ebook, "10 Things You Should Do To Increase the ROI for Your Investment Property."