Baltimore is an up and coming, vibrant city with a lot to offer. In honor of our new Baltimore location, we decided to compile a list of the hottest neighborhoods in the area.
Hampden, one of the neighborhoods on our list, was eighth on Redfin's hottest neighborhoods in the country for 2016! Redfin compiles this list at the beginning of each year to predict which neighborhoods will thrive. For 2016, the focus was on affordability, public transit, and charm.
1. Hampden
Hampden offers a small town, community-oriented feel, all within the Baltimore city limits. While the village of Hampden has been a long-time hotspot for locally owned business and restaurants, the local economy has developed over the past few years. Hampden's coffee shops, food trucks, farmer's markets, walkability, and artistic residents led Forbes to name it the fifteenth most hipster neighborhood in the country. This neighborhood calls to mind great art and food as well as a welcoming community. Homes in Hampden are surprisingly affordable and have strong historical value reminiscent of the village's beginnings as a mill town.
2. Riverside
Riverside is a diverse community with updated homes built in the 1900's and 1920's. The result of these renovations is streets lined with every variant of the classic rowhome. Most homes are 2-3 bedrooms with small yards and parking pads. The community is filled with every type of resident, from 30-year homeowners to young professionals from all over the country. At the heart of Riverside, Leone Riverside Park, you will find many recreational amenities like ball parks, public pools, pavilion spaces, and playgrounds. Riverside is always sprouting new restaurants that continue to thrive in this unique neighborhood.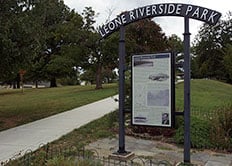 3. Federal Hill
Baltimore's most historic neighborhood is famous for picturesque views of the Inner Harbor and the Baltimore skyline. Brick-front homes, cobblestone sidewalks, and a huge variety of small businesses line the walkable streets. Federal Hill is abundant with local restaurants and is home to Cross Street Market, one of the most popular public markets in Baltimore.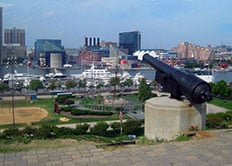 4. Charles Village
Home to the Baltimore Museum of Art and Johns Hopkins University, Charles Village is famous for its brightly painted Victorian row homes, known as "painted ladies." The neighborhood has the feeling of a college town with an urban-bohemian twist. Besides the pink ladies, there are high rises and repurposed warehouse lofts in the mix. Charles Village attracts all type of Baltimoreans. Blue collar workers, immigrant families, retired people, and young professionals all call this quaint neighborhood home.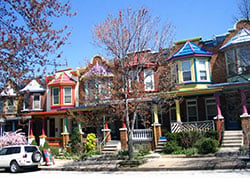 5. Canton
Canton is a waterfront community that is adjacent to Patterson Park, one of the oldest urban parks in the country. Canton Waterfront Park is another recreational space located along the Patapsco River. Located just minutes from Fells Point, Highlandtown, and Greektown, this neighborhood is in the thick of things.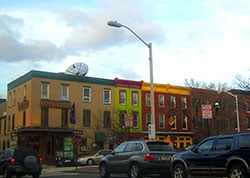 Now that you know a thing or two about the hottest neighborhoods in Baltimore, check out the rentals we have available in the area.