Rentwell is excited to serve the state of Delaware, where we set up shop in June, 2016. Featuring tax-free shopping and a variety of headquarters for large businesses and banks, this state is an ideal spot for professionals. However, Delawareans are hardly all work and no play!
Check out our list below for the five greatest recreational areas for enjoying the great outdoors in Delaware.
1. Alapocas Run State Park
Alapocas Run State Park offers serene views of a variety of scenery and encompasses 415 acres. It was named for Alapocas Run, a tributary of the Brandywine River, which runs through the park.
Popular activities include rock climbing, as well as hiking, biking and jogging on trails of varying difficulty. At the park's headquarters, the Blue Ball Barn, visitors can view the Delaware Folk Art Collection, where more than 120 works by 50 local artists are permanently on display.
2. Rehoboth Beach
Rehoboth Beach is the most visited city in Delaware and is the state's largest seaside community. It is dubbed the "Nation's Summer Capital" due to the annual summer influx of beachgoers from Washington D.C. This diverse community has a small-town feel.
Water activities like surfing, fishing, and kayaking are popular among tourists and residents. Visitors can stroll on a boardwalk adjacent to the ocean while browsing the eclectic shops that line the sea. Rehoboth has been lauded by Costal Living magazine as the sixth best beach in America and the best place to see live music on The East Coast.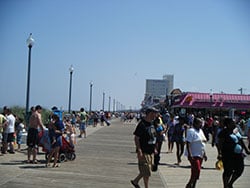 3. Fort Delaware
During the Civil War, Fort Delaware served as a prison for Confederate prisoners of war, particularly those captured during the Battle of Gettysburg. The historical site is located on 288-acre Fort Delaware State Park on Pea Patch Island.
This isle allegedly got its namesake when a cargo ship full of peas spilled into the Delaware Bay, causing pea plants to inhabit the island. Visitors to the park can watch award-winning reenactors recreate civil war era life.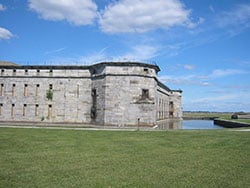 4. Trap Pond State Park
Trap Pond State Park is located in southern Delaware. It is one of the remaining pieces of what used to be a large wetland. Today, Trap Pond continues to house a great deal of bald cypress trees, and is the most northern location in North America where these trees are found.
These bald cypress trees attract a variety of migratory and native birds including pileated woodpeckers, great blue herons, owls, and warblers, making the park a popular destination for birdwatchers. The marshy waters are also an interesting place for boating, allowing an up-close view of life on the water.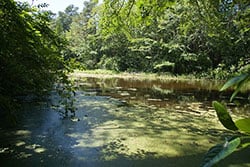 5. Cape Henlopen State Park
Cape Henlopen State Park is located on Cape Henlopen on the Delaware Bay. Visitors to this park enjoy hunting, fishing, basketball, and disc golf. It is the venue for annual events including the Kite Festival and the Halloween Fantasy Trail.
After walking along the three-mile trail, visitors can climb the WWII observation tower and take advantage to the stellar, 360 degree views. Year-round camping among the park's pine-covered dunes is another popular activity.
Now that you know where to go to enjoy the great outdoors in Delaware, check out the rentals we have available in the area.