New legislation in Pennsylvania proposes to replace the school property tax for local school funding. The Property Tax Independence Act proposes that these funds instead be raised using the Personal Income Tax and the Sales and Use Tax. Generally two thirds would come from the sales tax, and the rest would come from a modest increase on income tax.
This means that all state schools would take funding from one pool, rather than depend on the property taxes within each locality. For schools within Philadelphia, it could very likely increase funding as property taxes within the city and rural areas tend to be lower than those in the suburbs. Here's a chart from the Pennsylvania Taxpayers Cyber Coalition explaining further: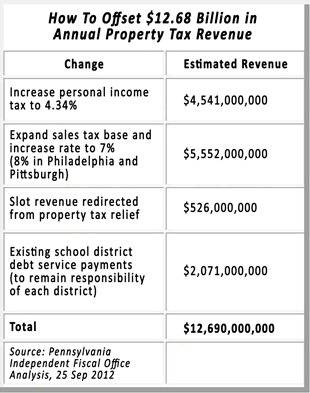 For more information about the Property Tax Independence Act, check out the full Memorandum. You can see a live webcast of the town hall meeting discussing this bill here on Thursday, April 30 at 7 pm.