We made it to another year—and that means it's time for another year of profitable real estate investments in the tri-state area! There's plenty of potential in 2021 to make the right choices that will set you up for success with your rental homes.
That said, there's also plenty of potential to completely mess up your portfolio with a DIY-approach that's riddled with mistakes. Seasoned investors are seasoned for a reason: they've either already experienced some of these painful failures firsthand and learned from them brilliantly, or they were spared the pain of a misstep by their tri-state property management team.
If you currently lack the experience of a seasoned investor and the insight of a full-service property management company, then you can take advantage of ours for free! Keep reading to discover more of the 'classic blunders' that property owners MUST avoid if they want to experience success—this year and every year!

You Didn't Investigate That Rental Rate
How long has it been since you last researched your current rental rate? You did research your rental rate, right? If not, that brings us to mistake number one!
When you set a rental rate for your tri-state rental homes, it should always be based on research and science—not your gut instinct of what you think your property is worth on the rental market. That's not to say that there isn't a place for gut instinct—women's intuition is backed by science, after all—but when it comes to your pricing, you need to dive into the market details to get it right.
Typically, this means conducting a rental market analysis and investigating details like:
Property-specific vacancy rates in your local market: If you have single-family homes, this means looking at vacancy rates across single-family rentals in your area.
Local market trends that will affect your pricing: Is your property near a college, university, or major hospital complex? Is a major employer relocating to the area and promising to bring new jobs with them? Are you close to desirable cultural hotspots like local restaurants or museums? All of these factors will influence your rental rate.
What comparable properties are renting for: This will typically represent the bulk of your pricing decision. If there's a property near yours going for a certain rate at a similar size and with similar amenities, that's your competition! However, it's worth noting that if they're still on the market, there may be something 'off' about their current pricing. Remember: At this stage, you're looking at 'unsold' inventory!
If nerding out over property pricing science isn't really your thing, just leave it in the hands of capable tri-state property management: at Rentwell, we offer a free rental analysis!
You Handle Routine Maintenance Yourself
Don't try this one at your rental homes! You might feel accomplished fixing that leaky sink, but if it's just a bad patch job, that sense of elation and 'DIY spirit' will quickly fade when a large repair bill arrives in the mail. Yikes!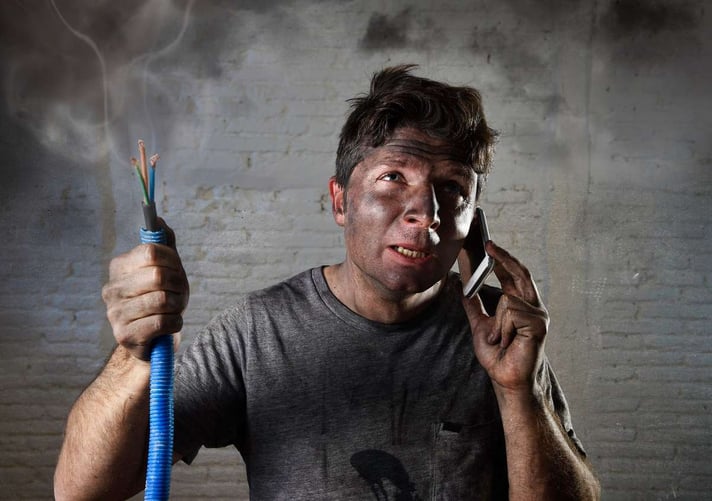 'Youtube University' can be great for small fixes here and there to your own home. However, unless you have the credentials to back up that wrench, it's best to leave rental property maintenance and repairs in the capable hands of professionals.
Your renters will appreciate quick and reliable fixes from vetted and trustworthy plumbers and electricians.
You'll appreciate not receiving phone calls at three in the morning or finding yourself up to your ankles in water.
Leaving the right fixes to the right professionals ends up saving you more money long term than multiple failed repairs.
Save yourself the money and take the time to find the right repair experts to work with in the tri-state area—or leave this one to a full-service property management company like Rentwell.
We've already got the maintenance chops to handle just about every form of routine maintenance and repairs your rental homes need—and the expertise to back it up!
You Didn't Build a Budget
This blunder always hits investors where it hurts: right in the bank account. Budgeting for key aspects of your rental property operational costs is the sign of an experienced investor—and also one that's less likely to get taken by surprise when emergency maintenance pops up with a sweat-inducing price tag.
Sure, you can't account for EVERY little thing that could go wrong (or right) with your investment portfolio. That said, budgeting in advance gives you a plan of attack for addressing problems and wiggle room to execute solutions. Budgeting isn't just for accountants—although you should consider hiring a good one if you intend to grow a vast real estate empire in the tri-state area.
Alternatively, you can leave the financial reporting and budget tracking to us! As a full-service, tri-state property management professional, we are well-equipped to provide the kind of reporting you need to make executive-level decisions about your growing portfolio.
Plus, we can make recommendations on expenses we think you might need to budget a little more or less for. That's budgeting smarter—not harder!
You Didn't Let Us Do the Work
Rentwell is a full-service property management company built from the ground up to do one thing and do it spectacularly: support property investors in every aspect of portfolio management! If you haven't been enjoying the benefits of a property management team, we're ready to show you the benefits you've been missing out on this year with stress-free investing.
You can even get started for free by learning more from our resources! Download your copy of our Guidebook for a First Time Investor to gain additional insight into what to watch out for when building your portfolio. From there, explore our library of resources—or reach out to us at any time for real-time assistance!