Property Management Services
Lease
No-Risk Contract: Cancel Anytime

Unsatisfied with our service? Cancel our contract at any time without cause or penalty. We guarantee our work in writing with a 9-month Tenant Guarantee on every renter we place.

Limit Your Risk

We utilize a tiered credit system to shelter you from unnecessary risk.

Protecting Your Profitability

Know who you might be renting to! Our extensive background check will tell you everything you need to know about who is applying to rent your property including criminal, eviction, and credit history.

Fair Compensation

We only want to be paid fairly for what we do. No hidden costs, no unexplained charges, just a straightforward, easy-to-understand contract. The best part? You can cancel at any time if you are not completely satisfied with our services!
Manage
Our property management services include:
Simple Communication

Unanswered emails? Confusing phone trees? That's not what we're about. During business hours we have staff ready to answer your calls, and we're happy to communicate by email.

Convenient Online Owner Access

Financial documents, maintenance histories, and other information about managed properties are all available in our Online Owner Portal.

Professional Building Inspection

Interior and exterior property inspections are completed in each unit to check the electrical systems, roof, and more. After every unit is inspected, we develop a status report and provide this to the owner. You'll always know exactly what condition each unit is in.

24/7 Emergency Services

Rentwell provides every resident with a toll free 800-number that is available 24/7/365. This attentiveness reduces the cost of maintenance by instructing renters on how to handle problems until a professional arrives.

On-Time Rent Collection

Rent is considered late on the 5th and by the 7th we post a notice to the property. For any late payment, we have our professional staff contact the renter. We have a 100% conviction rate in eviction court if the case of nonpayment ever gets that far.
Maintain
Our maintenance team is dedicated to maintaining your property through dual efforts of preventive and proactive maintenance, as well as the most efficient responses to maintenance emergencies.
In addition to creating short and long-term maintenance plans, we help owners and prospective owners look at investment properties and assess future anticipated expenses. We also complete thorough unit turns, as well as township, borough, and safety inspections. From replacing locks with one of our trademark systems to simple jobs like grass-cutting, and even full renovations and rehabs, our maintenance team is your ally in getting and keeping your property in good rentable condition.
Delaware Valley Area Information
The Delaware Valley is the valley through which the Delaware River flows. By extension, this toponym is commonly used to refer to Greater Philadelphia or Philadelphia metropolitan area ("the [Lower] Delaware Valley Metropolitan Area"). The Delaware Valley is coterminous with a metropolitan statistical area (MSA) and broader combined statistical area (CSA), and is composed of counties located in Southeastern Pennsylvania, South Jersey, Delaware, and the Eastern Shore of Maryland.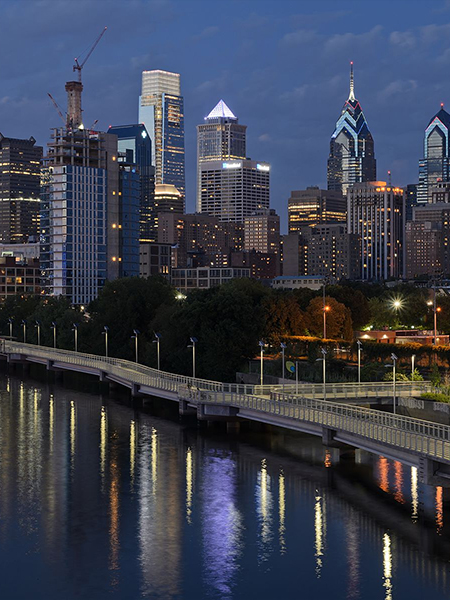 The Delaware Valley has been influential in American history and industry; its citizens have become leaders in higher education, biotechnology, medicine, tourism, and other fields. The area has hosted many people and sites significant to American culture, history, and politics. Philadelphia is sometimes known as "The Birthplace of America",[3] as both the Declaration of Independence and the Constitution were drafted and signed in Philadelphia. The Delaware Valley was home to many other instrumental moments in the American Revolution, and Philadelphia served as the capital of the United States for much of the 18th century. Today, the area is home to a number of nationally known universities, such as the University of Pennsylvania, Drexel University, Villanova University, Saint Joseph's University, Temple University, and University of Delaware. (Source: Wikipedia)